Education in the Digital Age takes courage. Courage to make the kind of decisions that allow students to be prepared for life in the technology-rich 21st Century. Digital literacy skills are more than simply knowing how to "google" a specific search term. Literacy in the Digital Age requires a new skill set---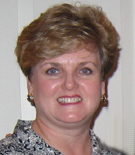 and it begins with the creation of relationships between the learner and the teacher. The seamless integration of technology coupled with the invisible-ness of mobile wireless technology provides the perfect venue for the creation of strong relationships between student and teacher.

Sedgwick students enjoy a rich relationship with technology. Students across all grade levels have access to mobile wireless technology. Sedgwick has had one of the longest running one-to-one laptop computer initiatives in the Midwest, spanning over four years. Teachers in Rae's school district strive to bridge the gap between the "learning in the classroom" and the "real world." The familiar adage, "You can lead a horse to water, but you can't make him drink---unless, of course, you salt the hay!" exemplifies the approach Dr. Rae Niles, Director of Curriculum and Technology for Sedgwick Public Schools, USD 439 uses to promote technology integration throughout her school district.

Rae has been a keynote speaker and presenter for several state, national, and international conferences, including the CUE strand of MacWorld 2006 sharing how students are seamlessly using technology K-12.Access to wireless, mobile technology changes the teaching and the learning for both the student and the teacher. She has also collaborated with Apple Computer, Follett Edcation, McNeil Lehrer, and the Learning First Alliance.

Rae has been in her current position for twelve years. She earned her undergraduate degree in Elementary Education from Wichita State University, Wichita, Kansas, and a Master's Degree from Friends University. She went on to obtain her Principal and Superintendent certificates from Wichita State University and has also earned a doctorate in Educational Leadership from the same institution.

Rae is available to speak with your staff, parents, Board of Education, community members, students, or organization about the what the seamless integration does to the teaching and learning in schools. She is also available for conferences and workshops. If you would like to book Rae for your event, please contact her via email at
technorae@mac.com
.